8/22 Wednesday Late-Morning
I am not all surprised by it.  $13,300 is major major pivot area and MARKET aint gonna break that easily so this is expected.
And definitely is not the TIME to panic and start shorting everything.  Let's looks at this thing logically in technical analysis.
$13,050 is going to be next support, also that's same price area of this uptrend (blue) line from early June there.
Most likely we are going to hit that and bounce back up to try to break that $13,300 resistance. And I am guessing we may bounce back and forth between $13,300 to $13,050 until it decides to move which ever way.
Even if we break bearish, we have two very solid supports at $12,700 and $12,600.
I am not going to start buying PUTS unless it break that $13,050 support and continue bearish because MARKET is still bullish at the moment.   How do I know that?  Well that's where we look at Moving Averages to see if the trend has been broken or not.
We just broke 10 EMA but 20 EMA and 50EMA is still intact and shows us that bullish trend has NOT been broken thus we can say that market is still bullish.   Basic stuff.
Now, looking at this Fibanocci Retracement, 61.8% = $12,800 price area is VERY IMPORTANT area because that is where it lines up/In-syncing with 100SMA.  I would have to say that price level is going to be the IMPORTANT PRICE POINT before this thing starts to really tank and possibly see 12500 and 12000 if or when $12,800 price level is broken and continue bearish.
Will update later.
8/24 Friday Morning – Finding some support
looks like we are finding some support there as we have expected it.
This uptrend line support is VERY VERY important line, if this breaks next target is (bearish) 12700.
Hopefully this is going to hold and DOW is going to try one more time to break 13300 PIVOT which is MAJOR MAJOR PIVOT AREA.
Today's candle represents Bullish Tweezer reversal
so looks good so far but the day is not over, lets see what we close with today because that's going to tell us a WHOLE LOT!
8/29 Wednesday – Possible Rising Three in the making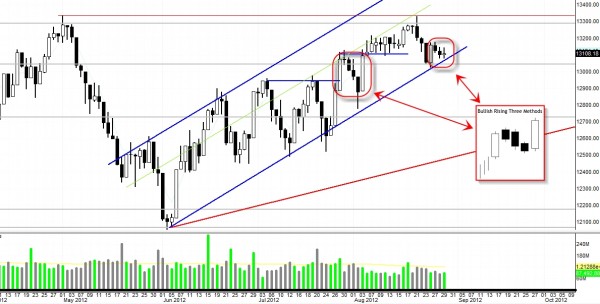 The reason i think this could be shaping for this pattern is because we are still at that major pivot area.
And also that uptrend channel line is where its sitting on it.
So it would be an ideal place to form this pattern.  It doesn't HAVE to but it has high probabilities that it might.
$13,300 is next target when or if it rises this week.
8/30 Thursday – I am not bearish unless 50EMA…
Broken = Close below 50 EMA with good looking bearish candle