7/24 Tuesday: We've been talking about this for months
Man has it beeen like two months since I've been talking about this divergence.
I wasn't sure when its going to play out but maybe its about time that its gonna play out.
I still want it to close above $120-$122 area before going bullish.  I am going to set up trades after market today.
I will update then.
7/24 Tuesday: After Close – Fib. Retracement Level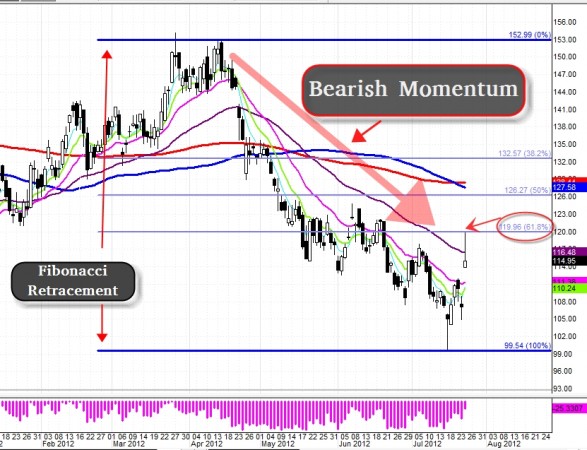 We tanked after hitting that Fibonacci 61.8% retracement level.  This thing was like a helium balloon as soon as it hits just little bit of resistance, it popped.
Well we got a Shooting Star at retracement level which is a reversal signal (its a signal/warning).  But with Bullish Divergence in the picture, I think we are going to find some support at $111 and possibly trying to get back up.
As you can see the moving averages, there are so much BEARISH weight just pouring onto $BIDU right now.  It has been trying really hard to get up there, but its like going against current, it's been struggling.  Let's look at some trade setups.
It feels like climbing 90 degree rocks.  tough road ahead of us but if we can make it up to and close above $125 with strong bullish candle, I say this thing has great potential to hit $140.
Must close above $125 price point with good looking bullish candle.  Otherwise that confluence zone is like a tornado, it sucks everything back in.
Let's see how it plays out rest of this week.  Will update more tomorrow.
7/29 Sunday: $125 Resistance
Somewhere above $126-127 is good bullish trigger.  Around $135 could be a hiccup and thats where $BIDU kinda hesitated to continue bearish and ultimately it did. So that's where we might slow down but i think ultimately we will get to the target.  volume is looking good.
So 100 & 200 SMA could become as resistance but if we look at past, 100/200 SMAs were not respected by $BIDU in about a year or so.   And in a big picture, it has been a sideways move for SMA.  So i don't think it;s going to take big part as we continue bullish.  It certainly could so watch out for it.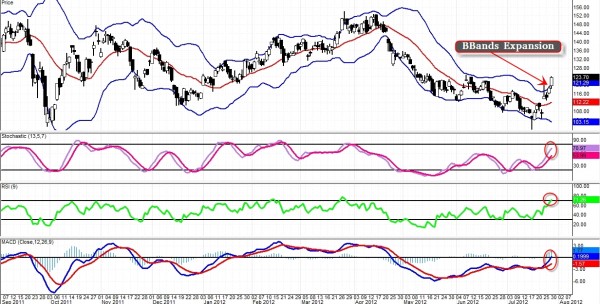 BBands expansion, supporting this bullish move. ALL Oscillators are also supporting this move.
Well let's see how it plays out this week.  with market being very bullish last few days, and if market continues bullish this week, we will have no problem.  Will update later this week.
7/31 Tuesday: Continuation Pennant Pattern
I believe we are forming a Pennant continuation pattern. When it breaks out, i think we are going to break that resistance at around $125.
My bullish trigger is above $126-$127 and target is at around $141 still.
I am so excited about this trade. I think it's gonna be awesome!!
8/2 Thursday Mid Morning – Fake Break-Out
STILL CONSOLIDATING in PENNANT PATTERN
Volume has been declining which is normal in this mini consolidation period.
Had fake break out this morning.  Looks like 100SMA could be acting as support but not confirmed yet.
As we break out of this Pennant Continuation Pattern, you will see the volume spike up.
We have most of our indicators and oscillators are overbought territories.
We could easily pull back to $117 and head up after some rest..
8/6 Monday – Bullish Position Triggered
Target 1 = $135
Target 2 = $141
8/7 Tuesday – Complete Analysis
Closed today with a skinny spinning top showing some indecisiveness of the move but showing OK volume.
As the Target 1 is getting close, we might chug along with another spinning tops and dojis.  And if that's what we see tomorrow, I will close this trade with profit.   I will stay on this trade to target 2 only if we see some good looking bullish candle tomorrow.
Good sign here. EMA's are crossing and we are trading above SMAs.  Definitely a good sign for continuation of this bullish move.  As you can notice bottom of my chart that William %R has been overbought for sometime now but it can hang out there as long as it wants and it will be ok.    It will become  problem, if we start to see the bars coming down further.
Parabolics up top looking good,
DMI supporting bullishness and ADX looks GREAT pointing up and indicating this move is starting to see some momentum.
HOWEVER ADX 30 point line has been recent resistance last two times when we hit that area, it came back down to 20 line.
So if we can pass ADX 30 point area, i think we are able to continue bullish with good strength.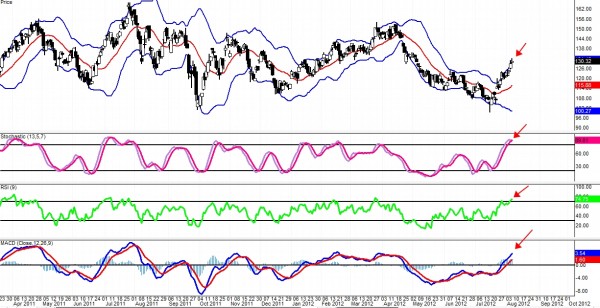 Here we see that we are approaching OVER BOUGHT TERRITORIES ON ALL INDICATORS/OSCILLATORS.
All these indicators are probably due for some rest or reset but don't have to.
BBands are expanding wider but losing some momentum with the candle today.
Stoch at overbought territory but we can hang out there as long as it wants. When it starts to change direction and point down, that's when we have to worry about.
RSI looking great for bullishness and same as MACD continue to travel north.
Just because they are at OVER BOUGHT territory, doesn't mean that trend must end.  They can hang out there as long as the trend continues.
We might see some pull back or rest but overall, we see good bullishness sentiment.
Very important next several days what $BIDU candle we gonna get.   I will update tomorrow.
8/8 Wednesday – Morning
8/8 Wednesday – After Close : Tightened my Stop
My stop is at 5EMA which is 128.06.  Making good profit on this trade but with market slowing down, I want to lock in my profit.  With everything else, it looks like we should on up to our first target but we could continue to move sideways forming a stair step pattern.  Volume has been falling as well but moving averages are still very aggressively bullish.
8/10 Friday – Morning : Continuation Indications
Today I've tightened my stop little tighter as the Market Indexes are starting to lose steam.
Nonetheless, we have possible Pennant Continuation pattern forming on $BIDU.  If we break out of this nicely, we could even get to our target 2.
Moving averages (daily chart) looking great still supporting this bullish idea.
I like the fact that we are NOT under 200 SMA but above and acting as short-term support.
10EMA is crossing 100 SMA and all moving averages are aggressively traveling north supporting the bullish idea.
My only caution is that the Market Indexes are at its pivot and it could roll over at any moment and $BIDU could roll over with it.  I think we be ok for today. will update next week!
8/13 Monday – After Close
Well faith would have it cuz I almost got stopped out today but thankfully i am still in this trade.
And we are continue to form this Pennant Continuation pattern.  My stop is still same and my next target is $135 and I still think BULLISH on $BIDU
8/16 Thursday Morning – Broke out Bullish as Expected!
Congratulations for those who have been patiently waiting with me.
Really no surprise here.. We've been in consolidation period over a week but forming a continuation pattern.
Continuation pattern is like it says it CONTINUES to the direction of the trend.
We reached our first target of $134 area.
Our next target is at $140.  My stop is still the same.
8/17 Friday – A Hang-man at resistance
Well this morning we opened and $BIDU was tanking… but at the end of the day bulls came back and now we have a Hang-man (weak early reversal signal).
Its so much better that it is not a Bearish Engulfing or Dark Cloud Cover which those are pretty strong signals.
Hang-man is probably the weakest sign of reversal but I want to lock those profits so I moved up my stop to $131.11 after close.
Even if get stopped out tomorrow morning, I would walk out with pretty good ROI so i would be ok with that.
But ideally around $140 was my ultimate target.
Looking at the Moving Averages, this thing still has lot of BULLISH MOMENTUM.
Also looking at other indicators, still pretty bullish there.
The concern is that DOW is running into a pivot area and $BIDU just threw a Hang-man giving us a slight warning.
Will update next week!
8/20 Monday Morning – Got Stopped out with profit