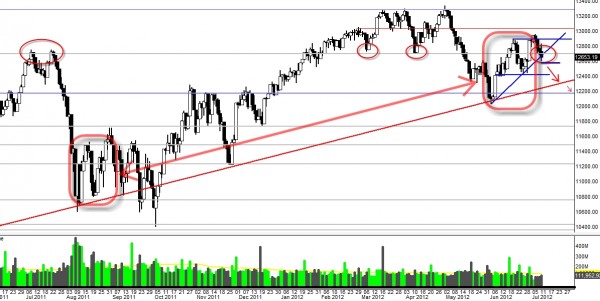 First of all,DOW closed in the middle of our major pivot area of $12,700.
You can see July 2011, March & April 2012 both acted as major pivot there.  And today we closed right in the middle of it. and also we closed right in the middle of our short-term uptrend line.
If we continue to move south tomorrow and trade below today's low, I think we gonna continue with bearish targets between 12200 and 12400.
This is what i think.  We are going to see choppy market for the next 3-4 months.  We are in this huge consolidation period where market trying to figure out which way it wants to go.  After a huge double top reversal (march/april), we had this great bearish move (May 2012 – June 2012).  And now we are kinda stuck in between 12200 and 12900 area to figure out which way it wants to move.
Last summer, thats exactly what happened and it does look pretty similar to what's going on today.  I mean just up and down up and down within those price points.   Best way to trade in this market is short trades. Less than a week and down or up to most recent targets.  Get profits where you can and set your stops close by.
Also I've realized many stocks are very sensitive to recent highs and lows (candle wicks).  for example:  $AAPL broke current resistance and traded up and then it met with upper wick candle from few months ago and it tanked.  So watch out for those.  Just because it traded through and broke major pivot doesn't mean its gonna continue.
Same thing happened with $GOOG.  We had double bottom reversal pattern and it broke neck line and it continued bullish but got caught up at resistance and it reversed again.  Usually double bottom reversals are pretty strong especially when it was confirmed by breaking the neckline but it never truly played out.
So take your profit whenever you can and trade to recent targets not major targets.