7/9 Monday: $62 Major Pivot
As you can see at the chart (daily) above that $62 has been a major pivot for $SHLD.
When it touches that pivot, this stock either reverses the other away.  So in that perspective, we are going to enter a bearish trade as it starts to roll over.
Last Friday we closed with Spinning Top right at that $62 resistance and sure enough this morning, this stock is starting to roll over.   Let's look zoom in
Uptrend Line to Watch Out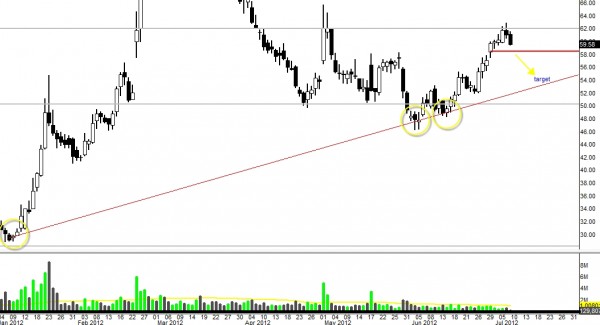 That uptrend line is now confirmed as pretty solid uptrend line.  (2 points to draw and 3 points to confirm)
Around $58 is good bearish trigger in my opinion.
Target is at about $54 so its gonna be quick $4 move trade.  Again this uptrend line is gonna act as support, so I wouldn't put my target any further than that if you are a swing trader like we are.
Looking at the relevant indicators..
RSI is giving us good bearish sign, STOCH is at overbought territory, Fast STOCH has already rolled over, MACD is kinda useless for this trade- it has been just moving sideways.
With a choppy market these days, I like these short trades.  Hopefully it will work out for ya.  Let us know your thoughts.
7/11 Wednesday Morning: Looks Bearish
Trade looks good. it's continuing to move south. and maybe in 2-3 days we should reach our target.  $51 is definitely a major pivot but we are not gonna wait until that price point because of that uptrend line.  About $53 is our current target.
Trading below 200MA and now sitting on 50MA there.  little concerning but with the market showing bearishness, i think we will be good until target.  if we see anything reversing, probably tightening the stop or close out the trade but for now it might slow down but nothing major.
So far so good.
7/12 Thursday Morning: Target Reached