7/9 Monday
Looking at weekly chart, we can clearly see that right at support, we have what we call Bullish Engulfing Reversal candle pattern.  This is pretty strong reversal pattern.  Does it have to play out? no. nothing has to play out but there is high possibility that it will.  And also it gives us more weight because this happened right at support.
Daily Chart: Strong Resistance $372
$372 seems to be pretty strong resistance there.  Last 4 months we traded all around it and that price point definitely has been the pivot area.
So what we gonna do is we are going to put a trigger just little bit above that pivot.
For safer trading, you ought to put your trigger further up so that you won't get whipsawed.
Volume has been increasing slowly and its good sign as we find some momentum here and to push through this resistance of $372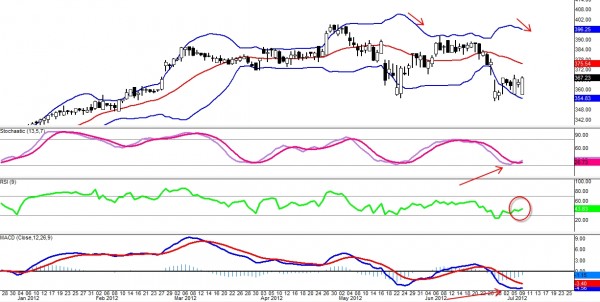 Bollinger Bands are started to close up, this is a good sign of retracting.
When BBands break and the trend is over, BBands elastically come back to its form or squeeze again, and usually thats when the retracement happens or reversal.
As you can see on late May 2012, that's exactly what happened. Late April, $AZO had Bbands break (bearish) move and then it started to close up again (mid May) and stock moved to opposite direction (bullish).  That's exactly what we are looking for here and hopefully we can ride it to our target when it start to reverse.
STOCH, MACD both at over sold territory.  Just because its at over sold territory does NOT mean it has to reverse.  They can just hang out there as long as they want if indeed if this short-term trend of bearish move continues.
RSI is pointing up and so there a confirmation of bullishness.
Overall, I am putting lot of weight on just chart patterns and pivot areas for this trade.  If it plays about $10 move.  We could make $400 our target #2 but i really dont think we are going to get there with choppiness of the market as of late.
7/11 Wednesday – 200 SMA SUPPORT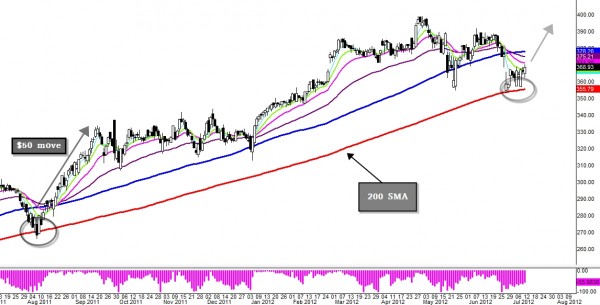 Early Aug. 2011, AZO bounced off of 200SMA and it moved $50!
Now its really pounding on that 200SMA but it is not breaking.  The law is this, the more you pound on support or resistance, the stronger it becomes and the bounce move is faster and stronger. (USUALLY)
I am watching this thing closely as DOW is starting to finish its short term bearish move.  AZO has already shown even with this bearish market, it sustained at that 200 SMA.  I think when it bounces up, its gonna bounce fast and hard.
7/12 Thursday Morning: Trade Closed
Yup we've been saying that bullish break might happen even though we are in this bear market since last Monday!
Sure enough, we broke out today despite of the market.   Got triggered and closed it within an hour or so with great ROI.