7/8 Sunday Night
Fibonacci Retracement Box is the key
As you can see we found some support at around $17 on 5/21 and started to move bullish, but when we met at 38.2% retracement level on 7/2, this thing tanked leaving long upper wick there thus forming a Shooting Star (bearish reversal candle pattern) at resistance.  That price point of about $24 is very important because similar action had happened on 4/10.
So if you want to go either bullish or bearish, breaking this Fib. Box is very important before we make our mind set of this trend.  $BBY is (big picture) definitely in bearish trend so what was that jump about? Again it was the retracement of that bearish move.  So as long as we are in or below that Fib. Retracement level we are still in bearish trend.  and in vice versa, if we can trade above this fib. retracement box, we COULD say that the trend has been or starting to REVERSE and going bullish but we haven't.
So Lets talk about the  trade set up here.  On 6/29 and 7/2, there is a gap area.  That gap are will act as a short-term support/resistance so putting trigger below that would be a smart thing to do.  Target is around $18.50.
Volume has hasn't been bad so as long if we continue in that scale we will be alright if we get triggered.   Take a look in May, when BBY had that bearish run for about a month, the volume didn't spike but had that consistency and that's what we are gonna look for.
100 & 200 SMA working as resistance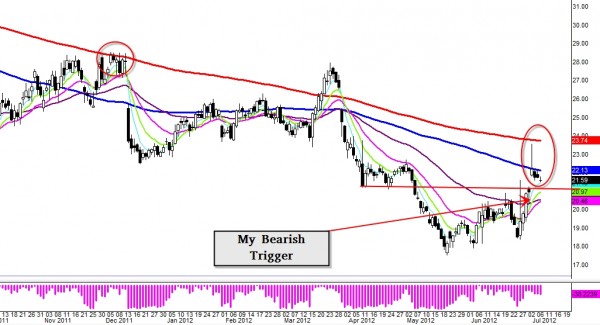 Stocks love to flirt with 100 & 200 SMA which means they don't always work as resistance right at it but they trade all around it.  if you look at end of April, it looked as though, we broke through 200SMA and going bullish but it came right back down.
I've seen this happening so many times, I don't get fooled anymore.   But this time, 200SMA working as strong resistance.  As soon as it got near it (7/2), it just tanked!  That created a shooting star reversal pattern and so we are hoping that is going to play out.  So far so good.
We want to for sure close below Fib Box.  and trade below gap support from 6/29.  (if you want to be more safe, wait until it close below that gap support from 6.29 $21.15
After that we should able to reach our target of $19.  Why not $18.50?  because I am not greedy.  Seriously tho, we've all seen it, many times stock will not reach the bottom of the support but kinda reverses little early. I just dont want that to happen =p
7/11 Wednesday Morning: Gaped Down
Wutta crazy day it was yesterday. We had that long lower wick and $BBY just came right back up to support area.
But today we gaped down and looks like we will reach the target here.  I did tightened my stop so I can lock in those profits.  and with the market looking bearish, everything looks good, we probably reach our target within few days here.
7/12 Thursday Morning: Closed with 37% ROI
Closed out bearish position with another great ROI there.