7/5 Thursday
S&P 500 Index: Bullish sentiment with Obstacles
We saw many break outs today including $AAPL, $GOOG, $NFLX and others but however looking at all three INDEXES, we didn't go anywhere. We kinda moved sideways.
DOW INDEX broke out of Fibonacci Retracement Zone Tuesday but we didn't move anywhere today surprisingly.  Because if we look at other two indexes, they are at their pivot.
Tweezer is not a strong reversal sign but for the fact that it occurred right at the resistance something be note of.  Because of that that tweezer top candle pattern, now we can draw that uptrend line thus creating another resistance there.
NASDAQ INDEX: Still trading in the Fib. Retracement Zone.
This is the only market index that has not yet broken this Fib. Retracement zone.  And trading just under 2990 level which is very critical resistance there.   Closed with doji and its definitely showing some sign of slowing down.
Looking at indicators and oscillators, they all give us bullish signal especially moving averages and ADX.  Only oscillator that showing bearishness is RSI alone.
Market has so much bullishness to it right now but I am little concerned because of these early signals (NOT REVERSAL SIGNALS but slowing down signals).
Here are two price points i would like to see for this bullish run to continue.
$SPX:  close above $1380
$COMPQ: close above $3013  (watch 3022.70 gap resistance from may 3rd)
let me know your thoughts
7/6 Friday Late Morning: Dow Index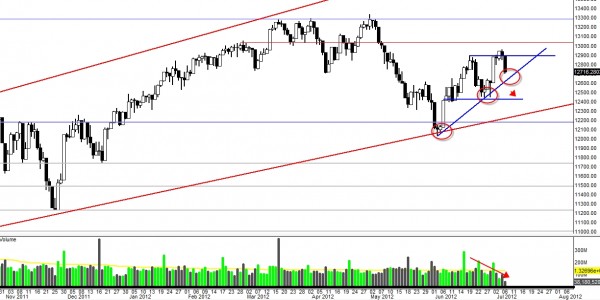 DOW started to give in with other two indexes. It looked like as though, Market was on it's way to go higher but with Dow's friends S&P and NASDAQ right at pivot, DOW decided to wait and go bearish with his buddies.
Well next stop bearish is on that short term uptrend line.   if we break that 12400.
Volume has been just very unstable, overall giving us declining volume on DOW.
I've been saying this before but i am going to say it again.  Please don't expect nice bullish or bearish run from here on. I really think we are going to see some up and down market which is difficult for swing traders but awesome for day traders.  So take your profit short and quick and don't hold your position too long.
We probably gonna be stuck on this nasty channel until about Nov-December of this year.
7/12 Thursday Morning: Arriving at Support