[box_dark]7/2 MONDAY[/box_dark]
CAUTION: EARLY SIGNALS
1. Uptrend Line from Jan. 2009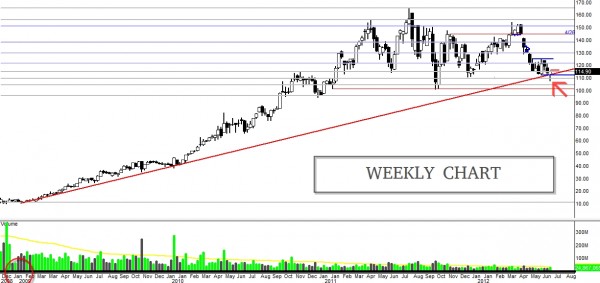 Oddly enough $BIDU stopped right at that uptrend line after about $40 sell off.  Obviously this line is something that many other traders are looking at around the world.  As far as the degree of importance of this line is NOT that strong given the fact that this line has not been touched since Jan. 2010.
I've been watching this line since few weeks ago but it has became more important to me since last Friday and here is why.
2. Hammer at Uptrend Line
Well like I said before this line has gotten so much stronger because $BIDU just threw a HAMMER right at that uptrend line.  Hammer is NOT an strong reversal. Usually we need more confirmation with candle like Hammer.  But because it threw the hammer right at this Uptrend Line support, I am more interested in this pattern also looking other bullish reversals we've found.
Let's look at the daily chart.
3. 1 White Soldier Bullish Reversal (STRONG)
1 White Solider is VERY STRONG BULLISH REVERSAL especially it forms at support.  So not only $BIDU just threw 1 White Solider at that Jan 2009 uptrend line but also at that 110.00 pivot (major support).   When you have 1 White Solider or 1 Black Crow at support or resistance, most then not, it will reverse and play out in that direction so this is very strong reversal pattern.  You can see that horizontal red line right above the candle, that's my trigger for Monday. That's how much I believe in that 1 white solider pattern.
Anyway, there is just one more Bullish Reversal Signal that is so significant for $BIDU.
4. BULLISH DIVERGENCE (STRONG SIGNAL)
Two Indicators have not yet CONFIRMED.
We have RSI confirmed but what we really need is to have MACD confirmed because MACD is Moving Average Convergence/Divergence indicator.  If $BIDU continue to trade up, this Bullish Divergence will be confirmed.  How strong is this signal?  VERY STRONG.  When you see Divergence like this, it usually play out like that.  Does it always play out? no. It doesn't have to play out but it will have high possibility that it will.  Remember, we can't ever predict it 100% but if we can work with high percentage trades with right analysis, you can be a good trader.
So what now? What are the trade set ups?
My Trigger (Aggressive)
My trigger is just above $116 here are the targets.
112, 130, 138.  Obviously I am going to look at the Market consistently and make sure Overall market is continuing in bullish and as long as Market is bullish, I am bullish with BIDU.   We are at a pivot at DOW INDEX trading right at Fib. Retracement of 38.2% fib so be cautious of that.
Downside of this Set Up
Overall sentiment of BIDU is BEARISH.  If you look at your moving averages, we are trading under the moving averages. So we are going to need some GOOD VOLUME SPIKE to support this bullish move.  And because overall sentiment of BIDU is bearish, its going to tough right up.  Like I said again, it's VERY EARLY to really tell.  My triggers are very aggressive so maybe its good to wait for few days and trade after more confirmation.
[box_dark]7/5 Thursday [/box_dark]
My target is $122.  I will probably close my trade when it hits around that level and re-enter bullish if it closes above $126.  $122-$125 lots of confluence and looks like it's going to be a tough road there.  Volume isn't great but ok.
Let's look at the indicators.
Bbands looks nice, $BIDU just closed above that middle line (20SMA).
STOCH, RSI and MACD all pointing up and giving us good signals for this move.
Strength indicators like DMI and ADX (not in the picture) is neutral since we only had about 4 days move here..
Conclusion
$BIDU sure looks bullish at least until $122 however we don't have much momentum here,  and we can't say $BIDU has completely reversed to bullish neither.  We might be catching just a little bit retracement of this huge bearish move.
Like I said earlier, I am taking my profits at around $122 and probably re-enter after it closes above 126. $122-126 seems like its gonna be lot of work.  let me know your thoughts.