[box_dark]6/28 Thursday[/box_dark]
Possible Double Bottom (Closed with Bullish Harami Yesterday)
$GOOG found itself a support at $555 mark. It tried to break that support and failed twice. Yesterday closed with Bullish Harami Reversal Pattern (not strong) but today we closed with shooting star candle leaving long upper wick thus giving little bit more sentiment of bearishness of the day.
Volume has been just bad… we will need some good vollume spike if we truly want to see this Double Bottom happening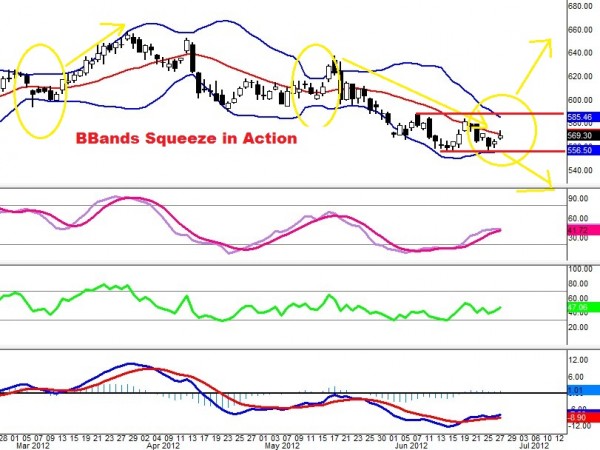 BollingerBands are shaping up!
BBands squeeze play is very profitable.  As you can see last several months, when $GOOG squeezes, it always pops!
So we don't care which way it break but we want it to break. So it probably is good to do some kind of strangle or straddle strategies.  Or just placing two triggers (bearish and bullish).
I think its going to be great trade when it pops.
[box_dark]7/2 Monday: Stoch & MACD[/box_dark]
GOOG is running into short-term resistance of $589 and unless we break that resistance and close above that, double bottom is NOT confirmed.  So this is critical to think that we might never even break that and reverse. I mean if market starts to roll over, we probably will never make it.
If you are looking at this like I am, you probably realized that STOCH and MACD is giving us just little bit of hope that this could shape up nicely and that double bottom could actually play out.  Does it have to play out? no.  These two signs are not significant and not strong but something to work with.  If you are placing bullish trigger, make sure its above 590-592.
[box_dark]7/5 Thursday: The Good & The Bad[/box_dark]
The Bad: 200 SMA
As soon as it touched 200 SMA it retraced just a little bit on Thursday as you can see that short wick on top (nothing major tho).  All through out last 8 months or so, it has been working as resistance, so now old resistance is becoming new support.  and even if we push through the 200 SMA, we have 100 SMA waiting to be docile.  so two big obstacles there.
The Good: BBands
As you can see on March 19th when BBands broke out, when $GOOG closed above that upper band, we had about $30 bullish move.  and its funny $30 from here on is our next target and even though we got little bit of wick on today's close but we sure did close above that upper band.  I am expecting $30 move!
Stoch and MACD still has lot of room to go and looking very bullish.  Only concern is that RSI is getting into over bought territory.   ADX and DMI looking alright to support this bullish move.
Conclusion
Well so there you have it. You take it or leave it. We have The Good and The Bad.  Decision is yours.  OOh Earnings at 7/12 (not confirmed) so trade with caution!